Making Biologic Medications Accessible And Affordable
The first time my rheumatologist suggested trying a biologic medication, I was very excited because I had been told they were cutting-edge medications that might be able to help me feel significantly better – and get back to my life! But then I learned about the price tag.
Most health insurance companies charge fixed co-pays for different tiers of medications. For example, a patient might be charged $10 for a Tier 1 Generic prescription, $30 for a Tier 2 Preferred Brand Name prescription, and $50 for a Tier 3 Nonpreferred Brand Name prescription. Having to pay for a Tier 3 medication every month isn't easy for everyone, but hopefully it is still attainable for most people.
Unfortunately, many health insurance companies have moved biologic medications into a fourth "specialty tier." For drugs that fall into this category there isn't a fixed co-pay to obtain a prescription. Instead, patients must pay a percentage of the cost of the drug, anywhere from 25% to 50% depending on the particular drug and insurance policy. And, unfortunately for those of us who depend on biologics to control our diseases, biologic medications are expensive, partly because generic equivalents simply don't exist.
So while I was excited to try the biologic medication my rheumatologist suggested, I was extremely shocked to discover that I would need to pay nearly $1,000 a month out of pocket! At the time I was a student and my husband worked in retail. We were living off my student loans and his small paycheck. There was simply no way we could afford to pay $1,000 a month.
Luckily, many of the pharmaceutical companies that make biologic medications offer co-pay assistance programs. (If you are having trouble paying for biologic medications, try googling "[name of your medication] co-pay assistance" to see if there is a program out there that could help you afford your medication!) We eventually qualified for a co-pay assistance program and I was able to start taking a biologic medication. It took a couple of tries to identify the right medication, but when we found one that worked it made a huge difference in my quality of life. With my RA a little better under control I was able to finish school and my husband and I were eventually able to start a family.
But there is always a risk that we will not be able to afford my medications in the future. And even though co-pay assistance programs are helpful, they often have caps, or maximum assistance amounts. Once you reach the maximum amount of assistance you are on your own to afford monthly payments for your biologic, which can be anywhere from $500 a month to $5,000 a month. And unfortunately this type of extremely large payment often forces people suffering from rheumatoid arthritis and other diseases to go without crucial medications, which can result in disability and other expensive health complications.
This issue is the main reason that my family recently traveled to Washington DC to attend the 2104 Arthritis Foundation Advocacy Summit, where we had the opportunity to meet with the offices of our members of Congress. At each meeting, I shared my personal story and asked my Congressperson to support H.R. 460: The Patients' Access to Treatments Act. This bipartisan legislation limits cost-sharing requirements in the specialty drug tier, making vital medications more accessible and affordable. This would not only help people living with rheumatoid arthritis, but would also help children living with juvenile arthritis as well as patients suffering from multiple sclerosis, lupus, hemophilia, other autoimmune conditions, as well as some forms of cancer. Access to vital biologic medications is necessary for our well being, and can keep us from becoming disabled, seriously ill, or even dying. Personally, this legislation would ensure that the medications I need to function are affordable, which is not only necessary for me but also so that I can be well enough to care for our two-year-old – as well as the second baby we currently have on the way!
It was a great experience to be involved in the legislative process on Capitol Hill, and I am so proud that I had the opportunity to serve as a voice for arthritis.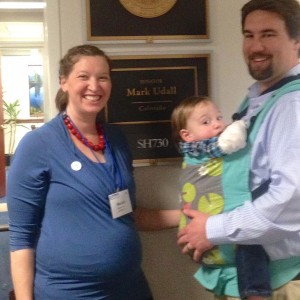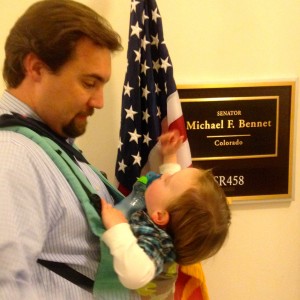 Here's How You Can Help!
If my story sounds all too familiar to you, or to someone you know and love, you can help!! Call or write or visit your members of Congress and ask them to support H.R. 460: The Patients' Access to Treatments Act. Share your personal story so your representative can learn how this issue affects his or her constituents.
If you aren't sure who your members of Congress are:
Visit Senate.gov to find your two Senators by looking up the state you live in
Visit House.gov and input your ZIP code to find the Representative for the district you live in.
Your representatives should care about what you have to say – after all you are responsible for electing them! And they should especially care about your concerns this year because it is an election year! So tell them what is important to you! And if you find out that your representative already supports H.R. 460 be sure to thank them!
This article represents the opinions, thoughts, and experiences of the author; none of this content has been paid for by any advertiser. The RheumatoidArthritis.net team does not recommend or endorse any products or treatments discussed herein. Learn more about how we maintain editorial integrity
here
.

Community Poll
After the past 2+ years, how do you feel about telehealth appointments to manage your RA?