I Sold It
It's true; I sold the Silver Flash. The Silver Flash was my three-wheel adult tricycle. I purchased it in 2012 following a hip replacement, and I hated riding it. In three years, I rode 314 miles on it. That average is slightly less than I was riding my two-wheel bicycle in an entire summer. When I say slightly, I mean like a lot slightly. 
I hated the Silver Flash because it was heavy, it rode like a lumber wagon and, most importantly, it was a restriction. I told a buddy of mine the other day it was up for sale and he said, "But you used to ride that everywhere." Well, it may have seemed like everywhere, but it was not many places. It was a few places, and those places made me miserable riding the contraption.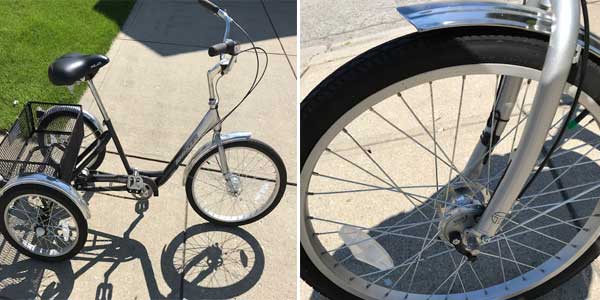 Finding a new RA-friendly bike
Getting the "ok" from my doctor
Three years ago, I parked it for good when my doctor said I could have a two-wheel bicycle back. The words "two-wheel" barely left his lips before I was out the door, going full tilt to the bicycle shop. I did not let any grass grow under my feet in case the doctor changed his mind. Sheryl said she never saw me move so fast.
Buying a used hybrid bicycle first to test it out
Now Sheryl, ever the cautious one, suggested I purchase a used bicycle until I was certain I could ride a two-wheeler. I took her advice; after all, she had the debit card (another wise choice that day), and I found a used hybrid bicycle to give a whirl. I had not had a comfort bicycle before, and it took some getting used to, but after about one mile, I was hooked. I had a new bicycle love. Of course, within a few months, I purchased a new year-end closeout comfort bicycle, and off I went.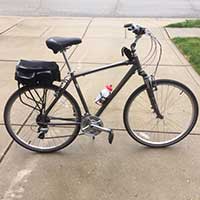 Selling my old tricycle
Parked in the corner
That left the Silver Flash parked uncomfortably in the corner of my garage, waiting for a final decision. At first, I ignored it. Then I brought myself to air up the tires and take it on a small ride around the corner to keep the gears oiled. Yet, the Silver Flash sat in the corner of my garage taunting me. The Silver Flash kept saying, "Hey Rick, I am still here; you know you will come back." "Nonsense, not ever" was always my response. I had that dialog going on for three years.
Finding a buyer
But this year when I got it out, it was different. This year, I wondered if someone might like a gently used adult tricycle. I knew it was time to part with the Silver Flash. I placed an advertisement locally, a nice lady called me the first day and asked if I would take a bit less. We negotiated for a little while, and later that day, she came over and picked it up and just like that, the Silver Flash was gone.
I understand I am fortunate I was able to lose weight and get my hip back in shape following the replacement. I know that there are things I used to do before Rheumatoid Arthritis that I will not get back. I understand that walking a mile might be more than I will ever do again. But, I also understand that limitations are what we make of them. Sometimes, just sometimes mind you, a doctor might say something crazy like "Yes, two-wheels might..." (I've no idea what he said after that). When someone says that, we can celebrate. I am fortunate to be rid of the Silver Flash. Now I am celebrating that I own the Gray Ghost. May the Gray Ghost ride forever, or at least until the next model year. Now, where is that debit card?
This article represents the opinions, thoughts, and experiences of the author; none of this content has been paid for by any advertiser. The RheumatoidArthritis.net team does not recommend or endorse any products or treatments discussed herein. Learn more about how we maintain editorial integrity
here
.

Community Poll
How does your pet support your RA journey?