Super Easy Reduced-Fat Pumpkin Cheesecake
There is a restaurant near our home that serves a seasonal pumpkin cheesecake that our family loves. It's a special item which we anticipate each fall and sometimes it's the deciding factor in choosing where to eat out for our family. That, and I happen to love the acorn squash that the restaurant serves in the autumn as well.
Although it's almost Christmas and we are moving into the winter season, my family is still craving the pumpkin cheesecake. Once you get a taste of it, you simply want more. So I decided to try to bake one for us to enjoy at home.
Prior to my experiment, I had never made cheesecake before so I was a little nervous. The mystique surrounding the special creamy goodness has always intimidated me from attempting cheesecake before, although it's one of my favorite desserts. At home, I've always been a cookies and cakes kinda gal.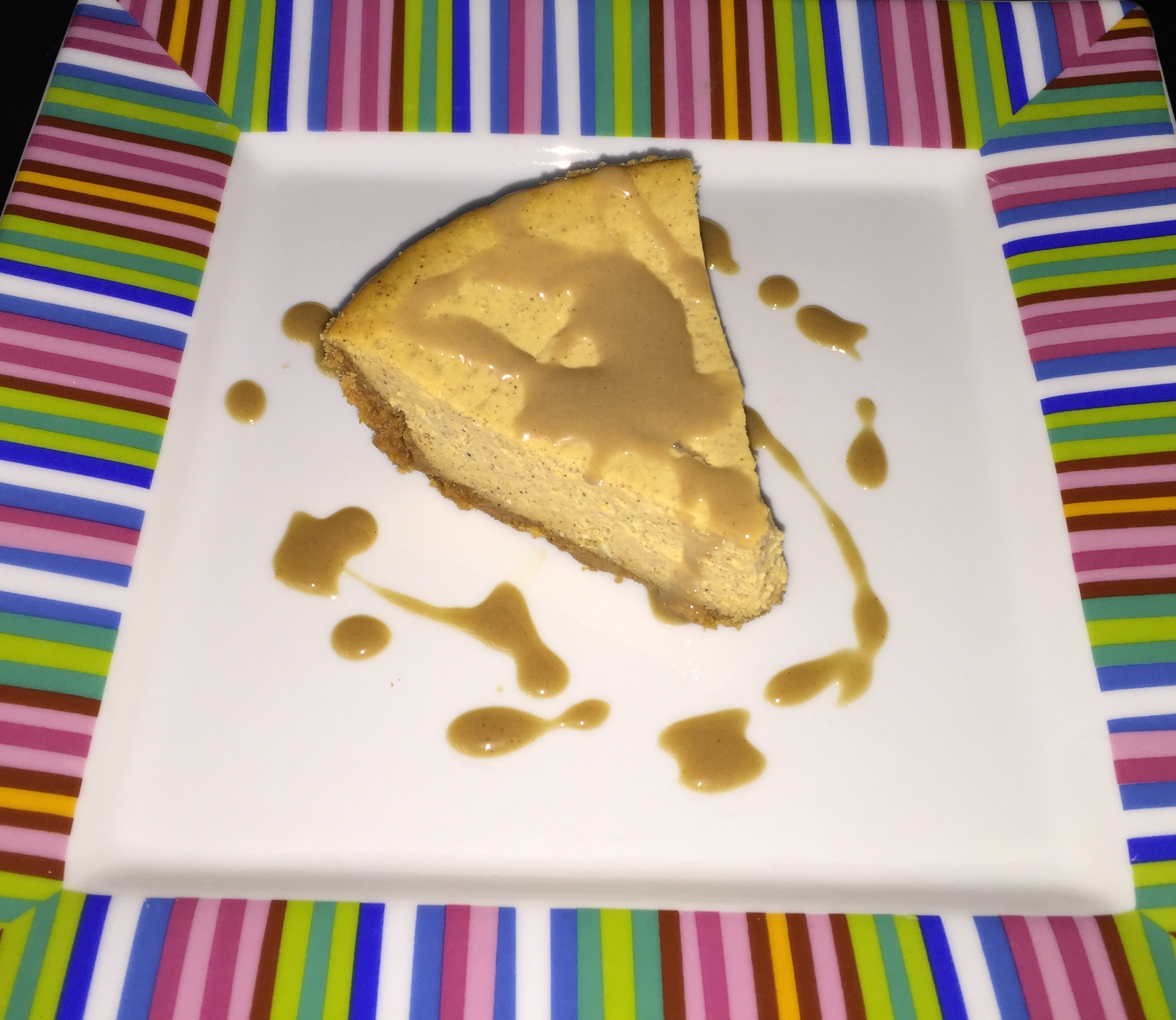 My journey began with searching recipes online and reading lots of cheesecake-baking tips. Many of the suggestions were similar from one author to the next, so I figured they must know what they're talking about.
Once I picked a recipe and tried it at home, I realized that I should never have been worried. Making a good cheesecake is really much easier than I thought. I even skipped some of the fancier-sounding recommendations like water baths, and such, and still created a tasty treat.
Then, I wanted see if I could change the recipe a bit to create a creamy dessert with less fat and calories. Since I've worked hard over the past year to lose weight (about 60 pounds so far), I wanted to create something with reduced guilt as well.
The substitutions I made were simple and I even used a pre-made reduced-fat graham cracker crust for ease and convenience. The results were absolutely delicious and I thought that you might also like to try your hand at creating a tasty fall treat that can be made anytime of year.
Reduced-Fat Pumpkin Cheesecake
Ingredients:
1 package (8 oz.) reduced-fat Neufchatel cream cheese, softened
3/4

cup regular sour cream

1/2 cup canned pumpkin
1/2 cup granulated sugar
1/2 teaspoon vanilla
2 teaspoons pumpkin pie spice**
2 large eggs, room temperature
1 package (6 oz. or 9-in.) reduced-fat graham cracker pie crust
2 tablespoons sour cream
1 tablespoon brown sugar
dash cinnamon
crushed pecans (optional)
Preparation:
Set out the cream cheese and eggs to allow them come to room temperature. When your cream cheese is soft, you'll know it's ready.
Preheat oven to 350°F.
Mix cream cheese, 3/4 cup sour cream, pumpkin, granulated sugar, vanilla, and spices with electric mixer on medium speed until well blended.
Add eggs; mix until blended. Make sure to scrape the sides and bottom of the bowl using your spatula to mix in all the great gooey cream cheese.
Pour mixture into your graham cracker pie crust (or a different type of crumb crust of your choice).
Bake for 40 minutes or until the center is almost set. Do not over bake. Cheesecake is done when the center is still jiggly like jello, but no longer liquidy. The first time I baked this recipe, I doubted that it was really done at this stage and I ended up overcooking my cheesecake.
Turn the oven off and crack open the door. Allow the cheesecake to rest for about 30 minutes. Cooling slowly helps to reduce the likelihood that the surface of your cheesecake may split.
Remove the cheesecake from the oven and place on a rack. Cool the cheesecake completely before placing in refrigerator to avoid sogginess.
Place cheesecake in the refrigerator, uncovered, for at least 3 hours or preferably overnight.
Before serving:
Mix 2 tablespoons sour cream, brown sugar, and cinnamon to create a sweet sauce to drizzle over chilled cheesecake.
Garnish with cinnamon, nutmeg, or crushed pecans, if desired.
Serves 8.
Nutritional Information per serving: 305 calories (185 calories from fat); 21 g fat;  20.4 g carbohydrate; 6.5 g protein.
** You can mix your own Pumpkin Pie Spice by combining the following ingredients and storing in an airtight jar to later enjoy in cookies, breads, desserts, coffee, etc.
2 tablespoons ground cinnamon
2 teaspoons ground ginger
2 teaspoons ground nutmeg
1 teaspoon ground allspice
1 teaspoon ground cloves (optional)
This article represents the opinions, thoughts, and experiences of the author; none of this content has been paid for by any advertiser. The RheumatoidArthritis.net team does not recommend or endorse any products or treatments discussed herein. Learn more about how we maintain editorial integrity
here
.

Community Poll
Do you or someone you know have gout? (Select all the apply)