What's in Your Bag?
#WhatsInYourBag has become a popular segment in the worlds of technology, fashion, beauty and more. Websites and social media photos show tech bloggers or beauty experts as they dump out their purse or bag to reveal and discuss their daily "must haves." Of course, their "must haves" for a day typically include expensive gadgets, makeup or accessories. This made us wonder, what about the bag of those who live with chronic conditions like RA? We bet that those who live with RA would have a very different list of "must haves" when dumping out their bag of daily necessities.
So we asked our advocates to share what's in their bags; what they carry with them on a day-to-day basis? Some of the items are rather obvious, some items very personal, but all the items give us a glimpse of what it's like to live with RA.
There are small bags of pills for my Sjogren's and stomach issues. Two small pots that contain Voltaren gel (for joint pain) and cortisone cream for the weird (RA-related) rashes I get. Lip balm and eye drops for dryness caused by Sjogren's. Tylenol for pain, and Tums to counteract the effects of all the medication I take. Plus there is a tactical pen. It's not only a working pen, it has a built-in flashlight and it's hardened aluminum and can be used six different ways as a defensive (or offensive) weapon (and can be carried through airport security without any issues).
What's in Tamara's Bag?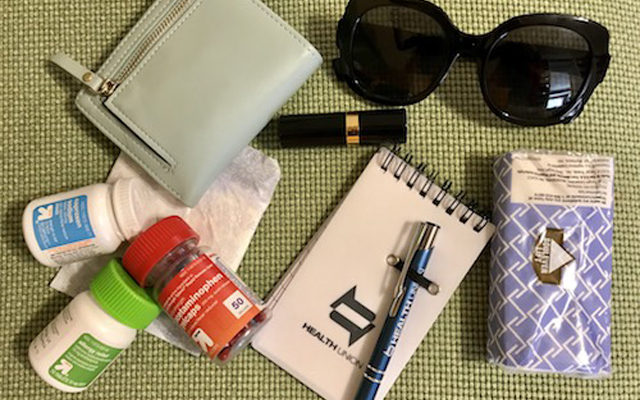 I always carry my wallet and lipstick, the only makeup I wear. I also have a pantiliner on hand for those times when womanhood is inconvenient. Never knowing when inspiration may strike, and feeling unable to trust my memory, I keep a pad and pen with me as well. Squinting gives me headaches, and I have enough pain as it is, so I need sunglasses. When pain does strike I have acetaminophen and naproxen sodium with me. I'm also plagued with sinus and allergy issues, so I keep tissues and allergy meds readily available.
What's in Monica's Bag?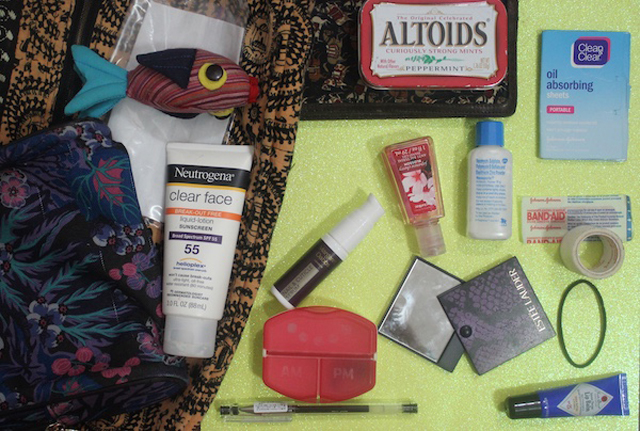 I keep a makeup bag inside my regular bag (which was a gift from India) with extra meds, lip balm, mirror, moisturizer, Neosporin powder, bandaids/tape, oil blotting papers for my face, extra sunscreen, hair tie, hand sanitizer, a face wipe, Altoids and a pen.
The makeup bag was a freebie from Estee Lauder and I'm really attached to my wallet -- the horses are too cute!! However, I am 100% honestly not sure why I have a cat toy in there. Either I was cleaning my room and picked it up on my way out or my cat actually put it in there.
I also always have a water bottle and a couple of snacks because I feed every two hours...like a rodent! Also, generally carry a book (right now it's Harry Potter 4!!)

Community Poll
Quiz: Which is NOT a common risk factor for osteoporosis?