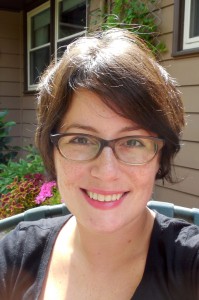 Living most of her life in Minneapolis, Minnesota, Angela has had a variety of weird, interesting jobs. She's been a hotel concierge (she once almost dropped a giant bag of laundry on Janet Jackson), process server ("You've been served!") English teacher in France, debt collector, wedding photographer, freelance writer, substitute teacher, hospital worker, DJ, nanny, dog-sitter, and she can't even remember what else. But what she really wants to do in life is use her passions for writing, photography, and arthritis/healthcare advocacy to somehow make a difference in people's lives.
Arthritis advocacy has been important to Angela since she was diagnosed with rheumatoid arthritis (RA) in 1997, right after graduating from high school. The diagnosis was a devastating blow, and she was afraid she would soon resemble her grandmother who also suffered from RA, with twisted fingers and a crippled body, rather than an 18 year-old. Looking back at that day in the doctor's office, Angela remembers a lot of panic, tears, and overwhelming grief as she thought her life was ending, instead of just beginning.
But her life didn't end. And since she was first diagnosed, Angela has been determined to not let rheumatoid arthritis stop her from living a full, exciting, and meaningful life.
In 2007 Angela started blogging at Inflamed: Living with Rheumatoid Arthritis – mostly just for fun and writing practice. She was soon surprised to see that actual, real people were reading what she wrote, and since then she's been very grateful for all of the kind, supportive people she's met through her blog. Living with a painful chronic disease such as RA can be a very lonely, isolating thing to deal with – especially for a young person. Angela hopes she can use her voice and experiences through blogging to help others with the disease not feel so alone.
Right now Angela is excited to be working as a freelance writer for Arthritis Self-Management magazine. She is also active with her local Arthritis Foundation chapter, the Upper Midwest Region, writing for their newsletter AFocus, photographing events (such as the Juvenile Arthritis March), and volunteering at other arthritis advocacy events.
In her free time, Angela loves to travel (especially visiting friends in Europe), works on photography projects, reads a lot, is a volunteer DJ at a community radio station in Minneapolis, rides her bike, volunteers at art museums, and...doesn't let RA stop her from doing any of it!
Click here to read all of Angela's articles on Rheumatoidarthritis.net