The Impact of RA on Quality of Life - Results From the 2018 RA In America Survey
Last updated: October 2018
So many RA symptoms to deal with…
RA comes with a slew of symptoms that impact the day-to-day of those who live with it. Fatigue, pain, stiffness, inflammation, and difficulty sleeping can quite gravely impact the quality of life; in fact, painful joints and fatigue affect one's daily life the most. And the sheer number of manifestations of RA can leave one exasperated about how to live a normal life.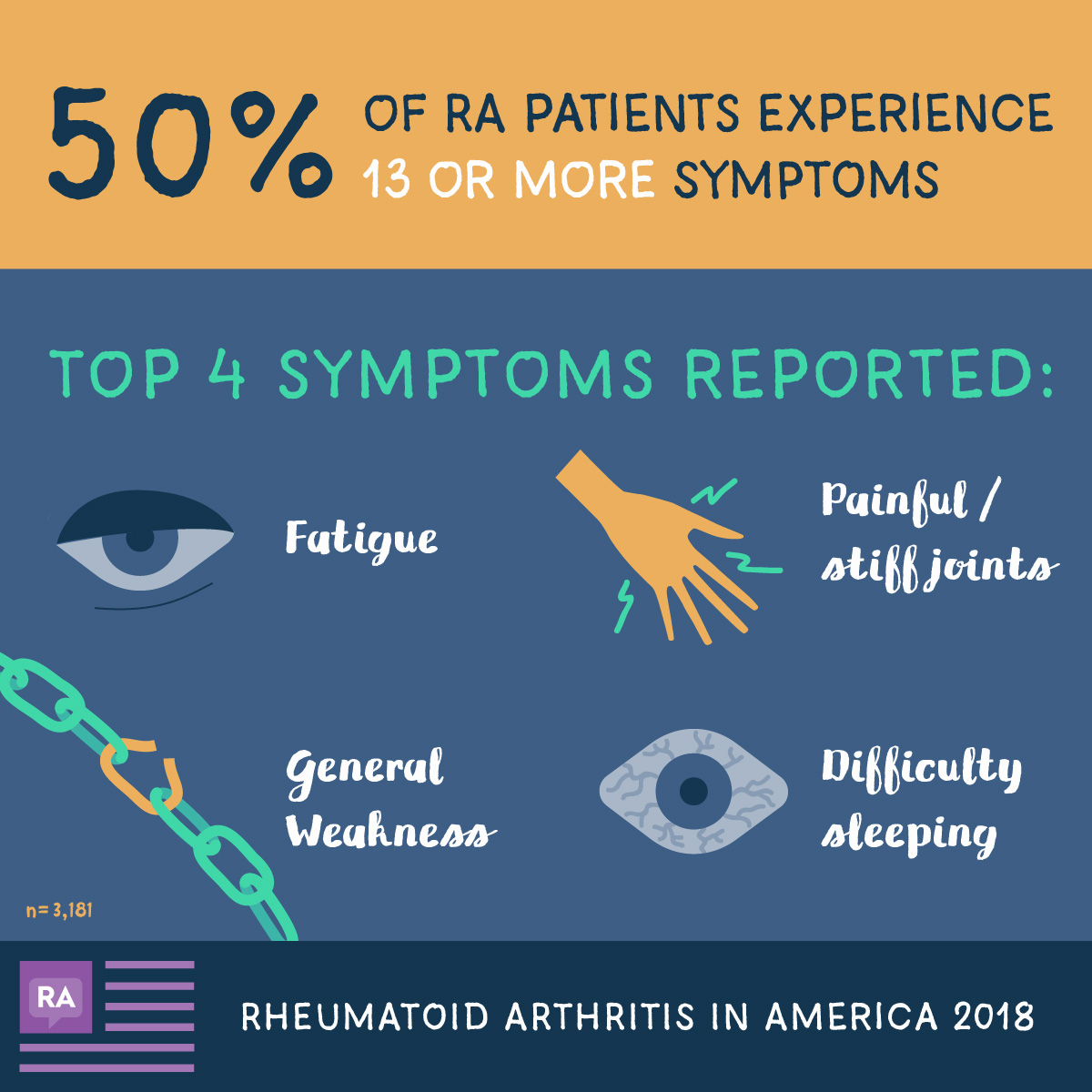 With RA saying "I can" becomes a daily struggle
When living with RA, one's physical well-being is a key component of one's quality of life. With the debilitating nature of RA symptoms, these symptoms have a major impact on how much one is able to do and accomplish.
Losing one's SELF to RA
RA impacts one's identity and sense of accomplishment negatively. We all want to work, achieve, complete deadlines, and cross items off our to-do lists, but when one's sense of self is challenged by RA symptoms, it leaves one feeling discontented with life.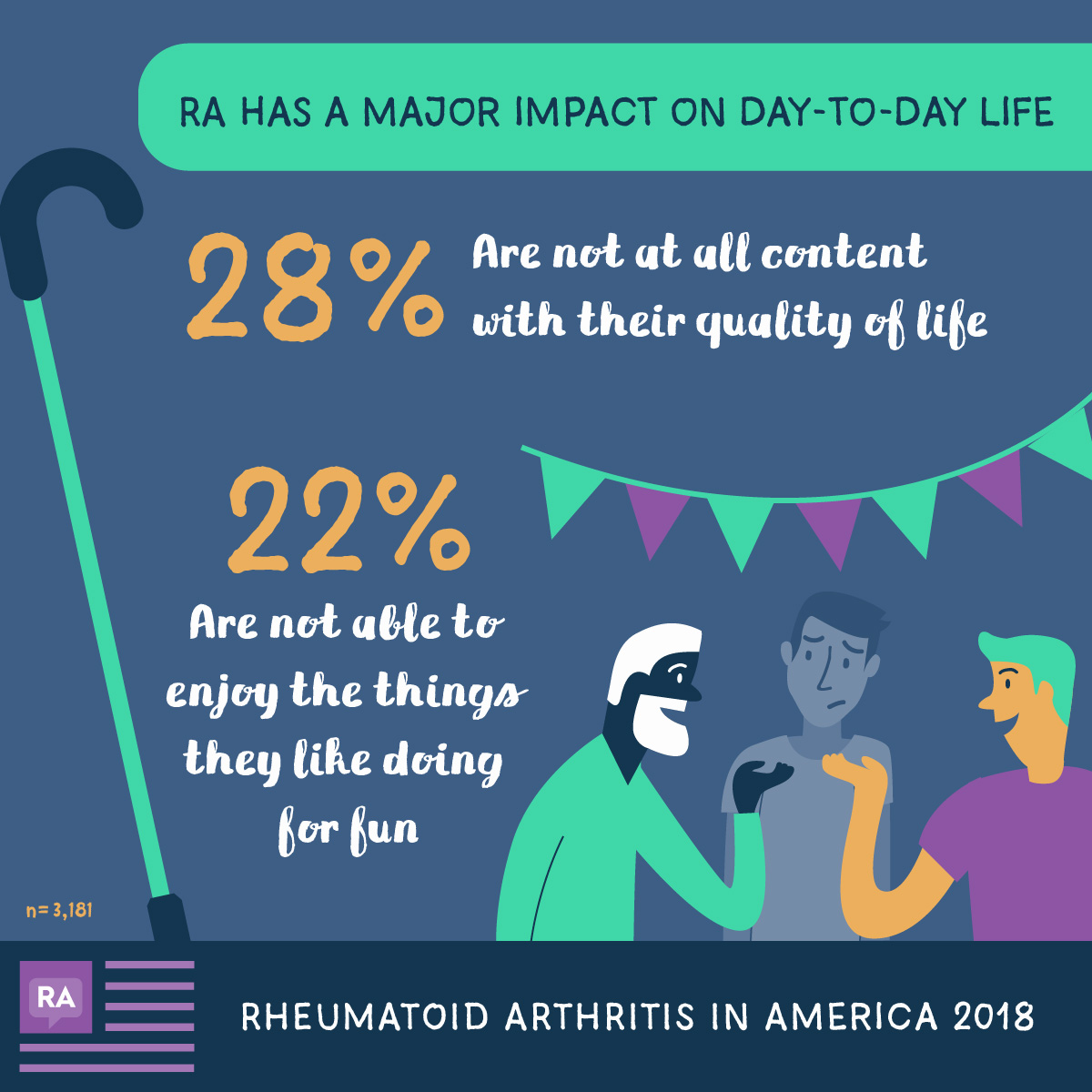 The isolation of RA
Humans are a social animal. Thus, when RA becomes overwhelming, it impacts their sense of well-being and fulfillment. RA symptoms impact this aspect of one's life too, especially social and intimate connections. So many of our community members have reported losing friends due to the unpredictable nature of RA and it's symptoms. Unexpected flares and untimely exacerbations lead them to cancel plans with friends causing frustrations and may eventually negatively impact their friendships.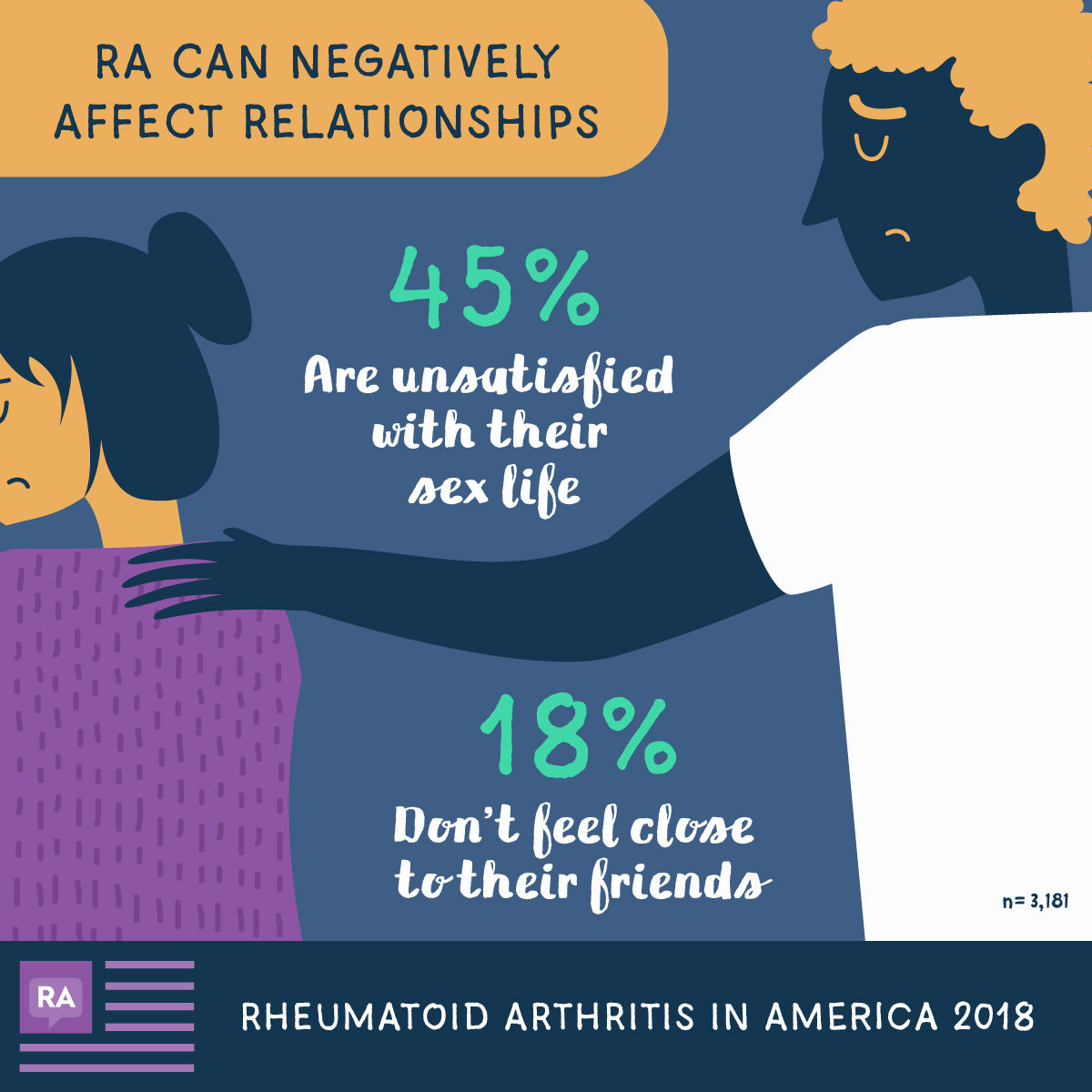 Accepting RA?
Accepting RA (or not!) is a big piece of the puzzle of making sense of this condition, its diagnosis, and how to cope with daily challenges. Acceptance is often a long and emotionally loaded process, but one often deemed important by many community members. The RheumatoidArthritis.net community has members who are in various stages of their acceptance journey and there is no right or wrong answer to how one copes with this life-altering diagnosis.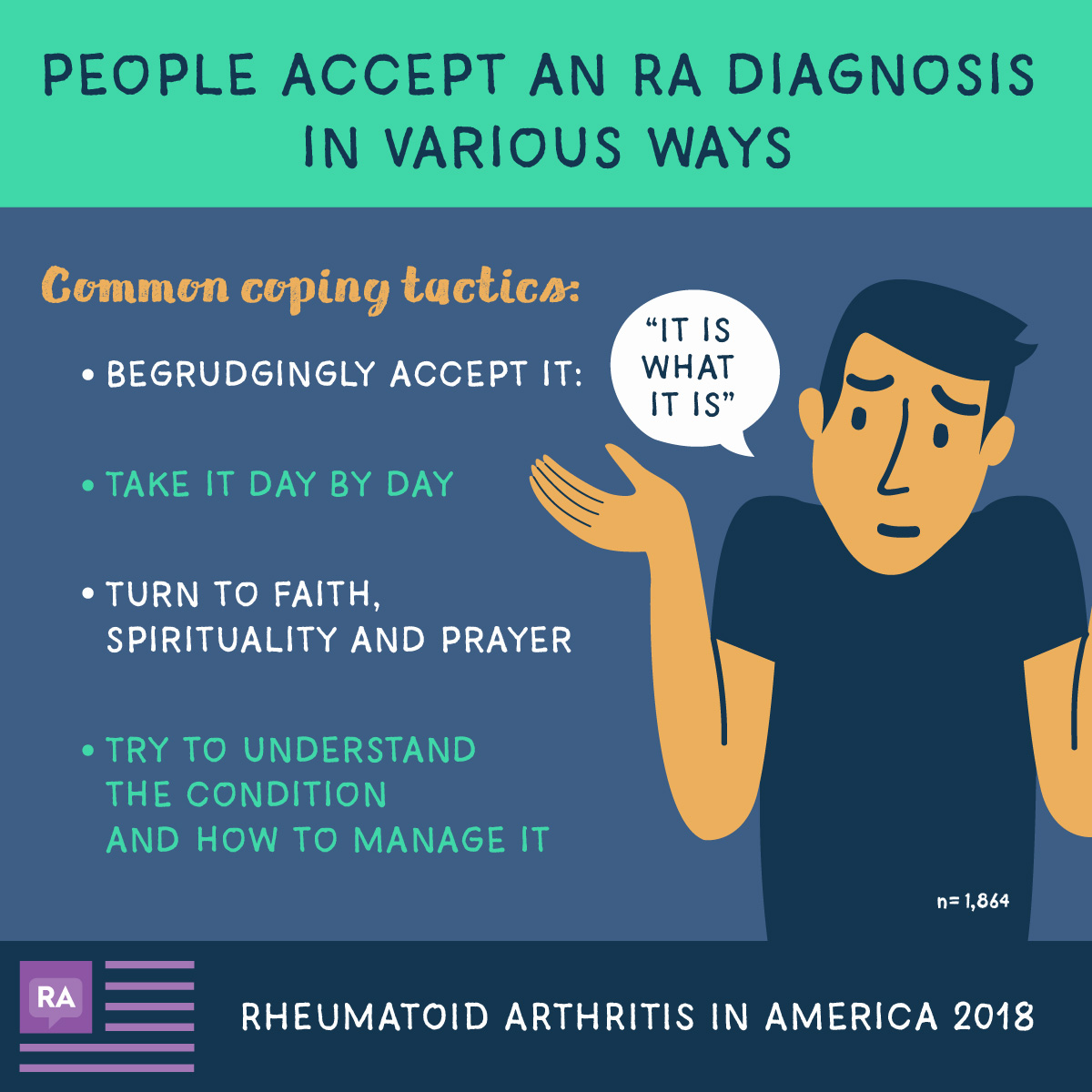 RA diagnosis; a life of worry?
Since RA is an autoimmune disease, it is a progressive condition. For many people, its symptoms get worse over time. Not only the symptoms, but the underlying inflammation in RA can cause permanent joint damage which can, in turn, impact the quality of life and the treatments one may need, including surgery. Many of our community members have time and again expressed worry over their RA progressing and making their lives even more difficult than it already is.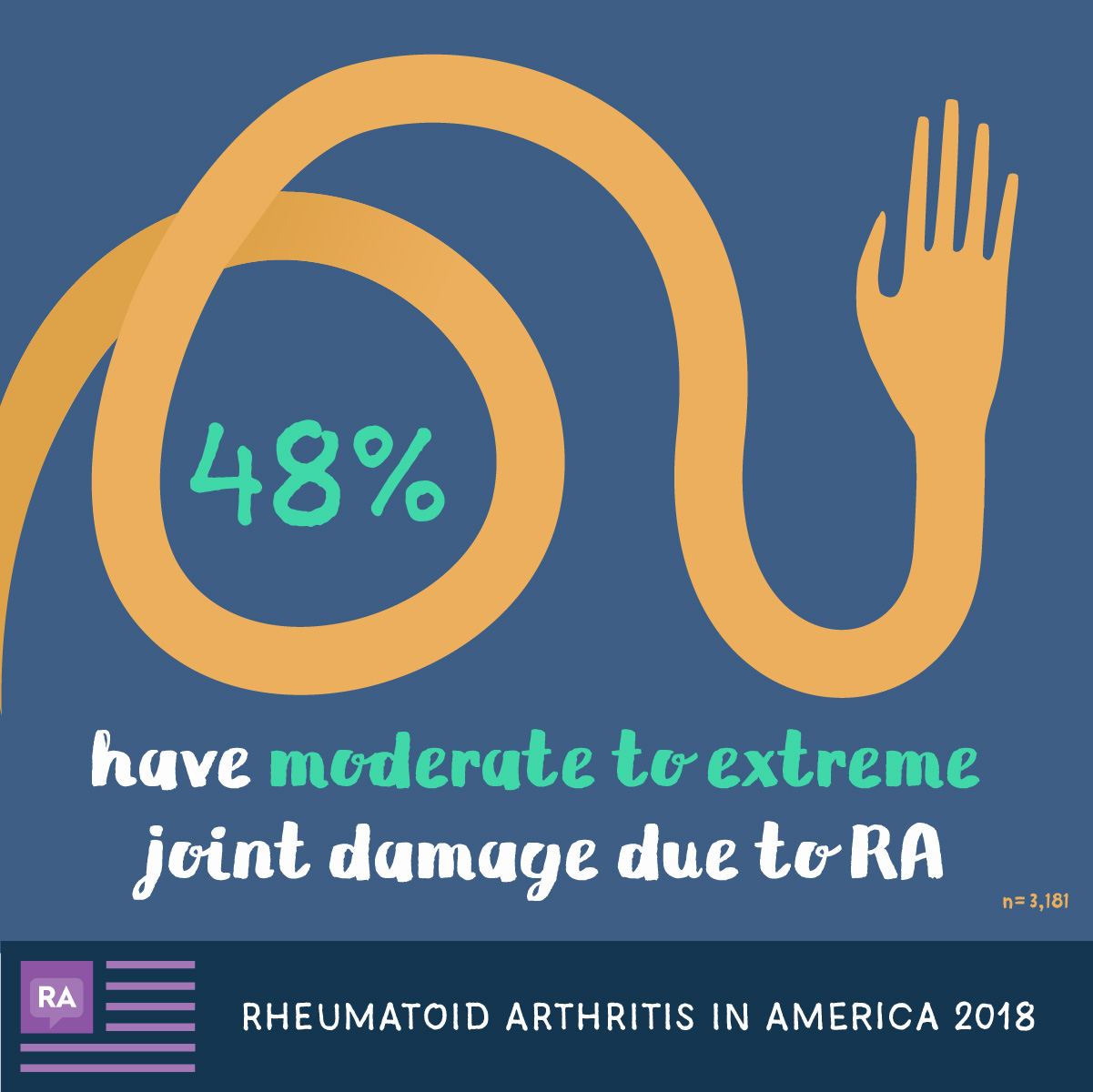 The Rheumatoid Arthritis in America 2018 survey was conducted online from May to June of 2018. It had a total of 3,181 participants.

Community Poll
On average, how many times per month do you (or your caretaker) go to the pharmacy?