When Our Service and Support Animals Are in Need
I am the proud mom of a 7-year-old, 20-pound cat named Luka. He is no ordinary animal; he has been deemed my emotional support animal by my physician. Through my 18 years of living with RA, I have experienced an increased level of anxiety, depression, disease-related social isolation, panic attacks, and post-traumatic stress disorder (PTSD). These conditions are, unfortunately, very common for someone living with a chronic condition like RA.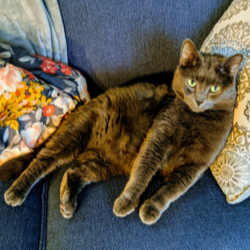 The benefits of emotional support animals
I know first-hand that my Luka has helped calm my anxiety and has allowed me to not feel so socially isolated at times of disease flare-ups. His companionship and love help me to calm myself and stabilize my emotions. He is my partner in crime every day. He runs toward me when my RA flares, not away like most people have in my life. He doesn't see me as broken. I'm purrfect in his eyes.
The cost of our furry companions
It is a reality that the majority of people living with chronic illnesses are on a fixed or very limited budget. I personally try my best to keep up with his shots, veterinary visits, and healthy foods. As many can attest, this is not an easy feat.
Luka had been experiencing some odd behaviors and started to physically attack his tail. Something he never did in the over 2 ½ years that he has been in my life. In May of 2022, I took him to his vet and spent a large chunk of my food/gas budget to have him seen and get medication. He worsened and, unfortunately, was turned away from his vet.
Unexpected medical visits
I didn't know what to do. I found myself unable to provide the necessary care to this amazing creature. The one who quite literally is consistently there when no one else is.  So, I packed him up in his carrier and took him to our local humane pet chapter, SPCA.
I was hoping they could direct me to a local doctor who would work with an ESA, whose owner is on a fixed income. Once they heard about my situation and desperation, they whisked him away to be seen. He was seen that day and provided medication. Unfortunately, he was not improving, and a little less than a week later, he was admitted to their animal hospital for 3 nights and 4 days.
There are helpful resources
My Luka has some special needs. However, he will have a new vet at the Lipsey Clinic at the SPCA of Erie County. This clinic offers low-cost veterinary care to the community, so he will get the care and medication he deserves and will require. I am so thankful to this organization.
Tips In Case your ESA or service animal needs medical care or food:
Reach out to your local Humane Society- do not be afraid to explain your situation
Research low-cost veterinary clinics in your area
Research national organizations for assistance. There are many organizations out there.
For food needs: local humane society or research your area for pet food pantries (I have personally used them when things get really tough)
The need for low-cost vet care
Luka will make it through this, and we have found an organization of people who care deeply about his health and well-being.
I also have had the pleasure of speaking with the administration at my local SPCA. We talked about a very important nationwide and local need for more low-cost vet care options for owners with disabilities in financial need. These animals are vital to our healing, recovery, and everyday living. I truly believe Luka gives me far more than I could ever give him. However, rest assured he is very loved and well advocated for.
This article represents the opinions, thoughts, and experiences of the author; none of this content has been paid for by any advertiser. The RheumatoidArthritis.net team does not recommend or endorse any products or treatments discussed herein. Learn more about how we maintain editorial integrity
here
.

Community Poll
Have you struggled to afford your RA medications?