Got Pets? In Flare? Try These Tips for the Same Level of Care
Last updated: May 2021
Pets are so lovely when I'm having a Rheumatoid Arthritis flare. They lift my spirits, they take care of me, they're the reason I don't tear my hair out every day. But, sometimes, their wellness just doesn't mix well with my condition. Taking care of cats and dogs is very physical work and when I'm in flare...Fuel on the fire.
At the time of my diagnosis I had four pets (two dogs and two cats) and there was no way I was going to give them up. Thankfully, I had family and friends who were willing to help out occasionally but at the end of the day, my pets were my responsibility and I had to care for them.
I am a pre-vet student so pets are kind of nonnegotiable. Would I want less than four pets? No way. It's a well-rounded number that forms its own little pack.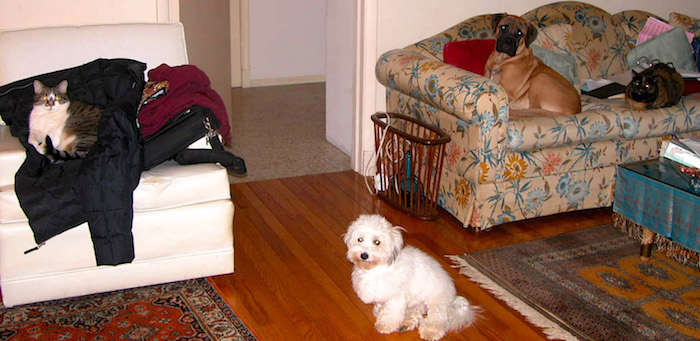 I actually have it very easy because Marmalade, Sunsilk, Affie, Saachi (deceased), and now Mocha are extremely low maintenance and self-sufficient. Sure, I have to feed and walk them, clean their litter box and cook their food (the dogs eat a home-cooked diet); but, for the most part, as long as they have access to their water, toys, food, and each other they don't want me! I'll be honest, though, when they act up (at the exact same time, of course) as well as get sick in a group, taking care of them is no joke. And, it gets less hysterical when I myself am ill.
It is very important for me to still give my pets the same level of care even when I am not 100% so I've come up with some "hacks", or easier ways, to take care of my pets when I'm in flare:
Don't keep a strict schedule:
Every trainer says the same thing: vary a puppy's schedule so if you can't make it home at exactly 5:05pm to feed Fido he doesn't destroy things out of angst.
This is even more important for people with chronic illnesses. What if we just can't open that tin of food or we need to rest before walking the dog? We don't want Fido urinating and defecating all over the house. Because, a) yuck! and b) how many spoons is that going to take to clean up?!
Now, I'm not saying if you feed your dog at 5pm it's okay to wait until 8 but having a small window can make a world of difference.
Prepare food ahead of time.
I can't predict flare-ups so on a good day, I section food into separate Ziploc bags so it's easy to dump the food right into the bowl. Refrigerate canned food so it doesn't go bad.
Use a tether.
Walking the dog is the one thing I dread during flares. A tether for the backyard is a life saver in this situation. I use a long tether so Mocha and Affie have access to my entire yard. They get their exercise, do their business, enjoy romping around in the fresh air and I don't have to worry about them escaping!
Pet harnesses are your new best friends.
On that same note, my dogs wear harnesses to protect their necks on walks and in the yard. Harnesses are also great because they can stay on all day.
If you choose to take it on and off, train Fluffy to jump up on a designated chair so you don't have to bend down.
Unfortunately, your average harness has a myriad of buckles and straps and is not particularly joint friendly. Find a Velcro one that you can easily slap on and keep on for those more painful days!
What do you think of these tips? Do you have any more? I would love to hear them!
This article represents the opinions, thoughts, and experiences of the author; none of this content has been paid for by any advertiser. The RheumatoidArthritis.net team does not recommend or endorse any products or treatments discussed herein. Learn more about how we maintain editorial integrity
here
.

Community Poll
On average, how many times per month do you (or your caretaker) go to the pharmacy?