RA in America 2014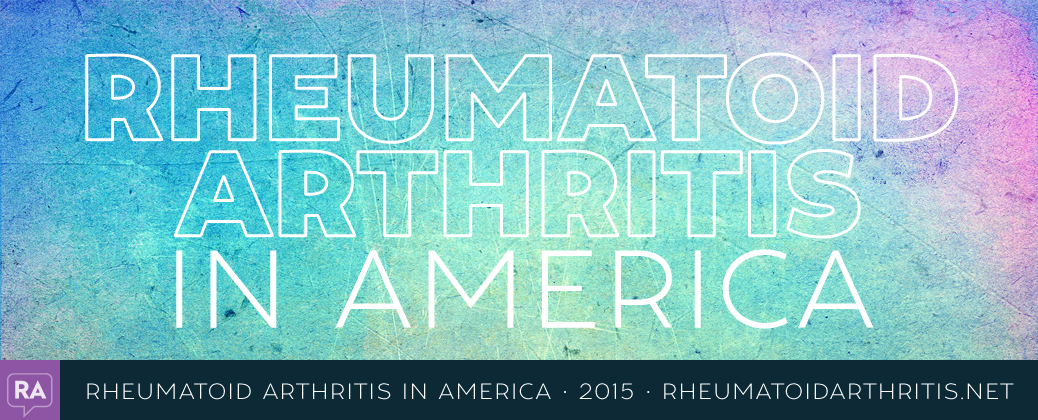 What is the impact of Rheumatoid Arthritis in America? The RA in America 2014 study was conducted last summer to learn more about RA sufferers' symptoms, other health conditions, and quality of life, as well as awareness and experience with current treatments on the market.
Respondents were recruited from the RheumatoidArthritis.net community. 4,717 individuals started the study and 3,561 qualified individuals completed the study.
Data analysis used a p<0.05 for determining statistical significance; denoted by "significantly" throughout the findings.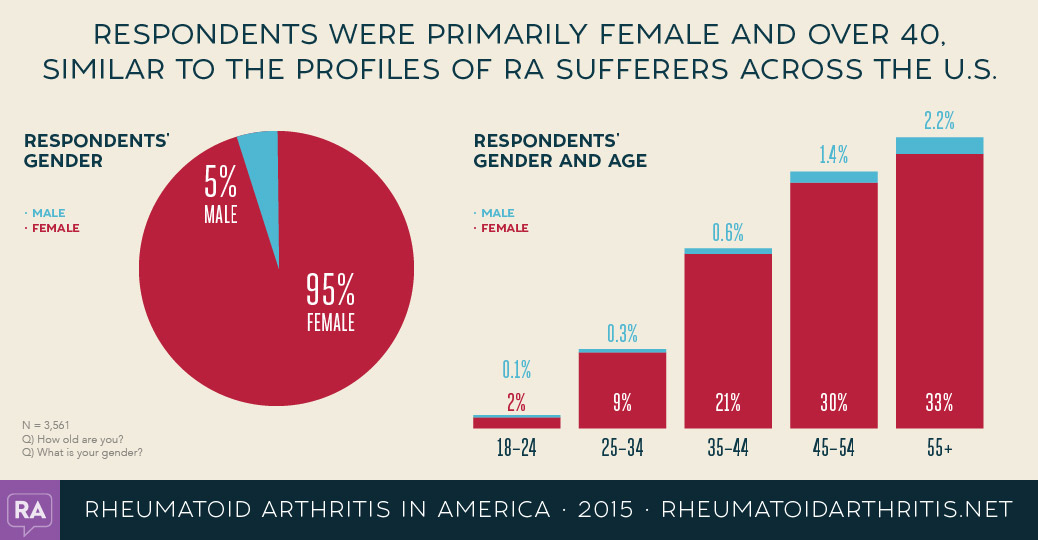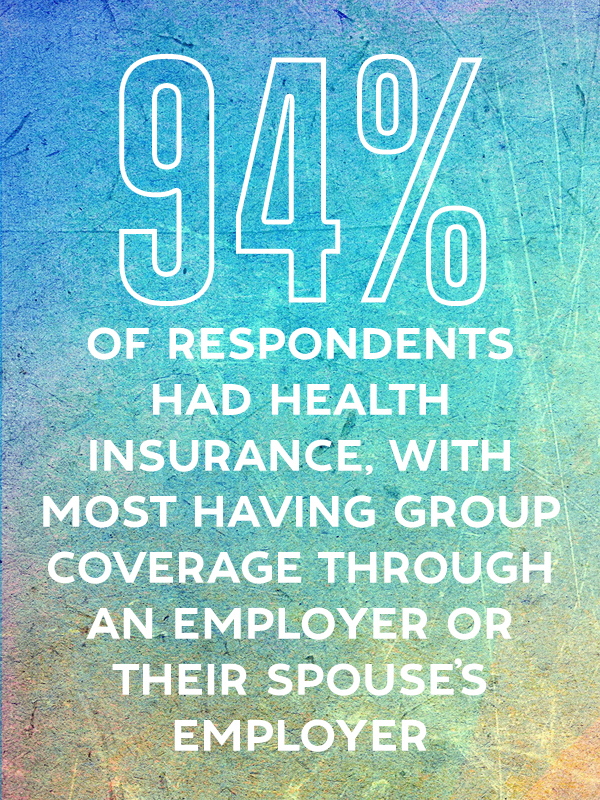 A majority of respondents were female, which is consistent with current epidemiology data for RA (The prevalence of RA among women is approximately double that in men). A majority of respondents were 45+ years of age, also consistent with the general RA population.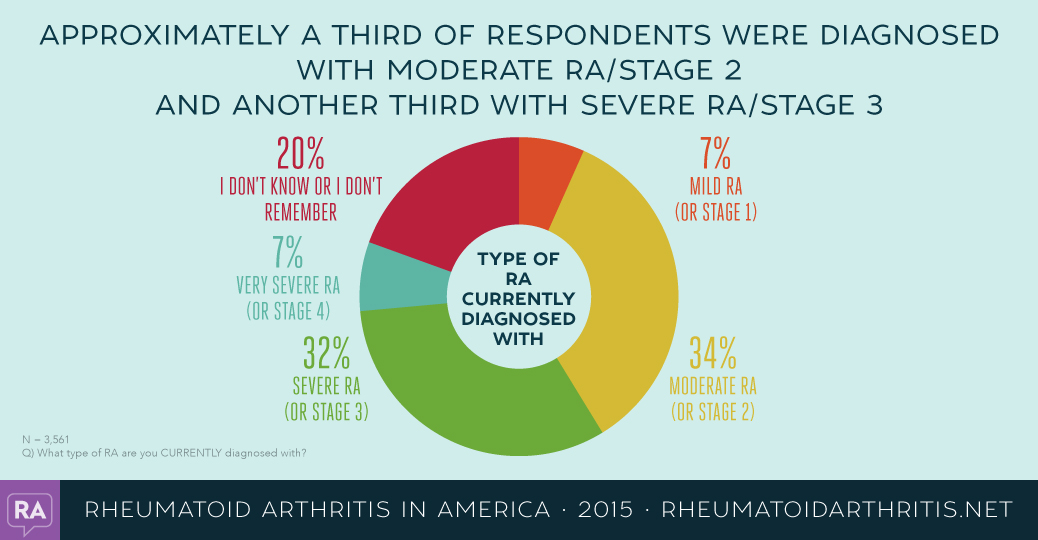 RA's progression can vary greatly from one person to the next. 34% of RA in America respondents were diagnosed with Moderate (Stage 2) RA and 32% were diagnosed with Severe (Stage 3). Although a majority of respondents knew which stage of RA they were currently diagnosed with, 20% did not know.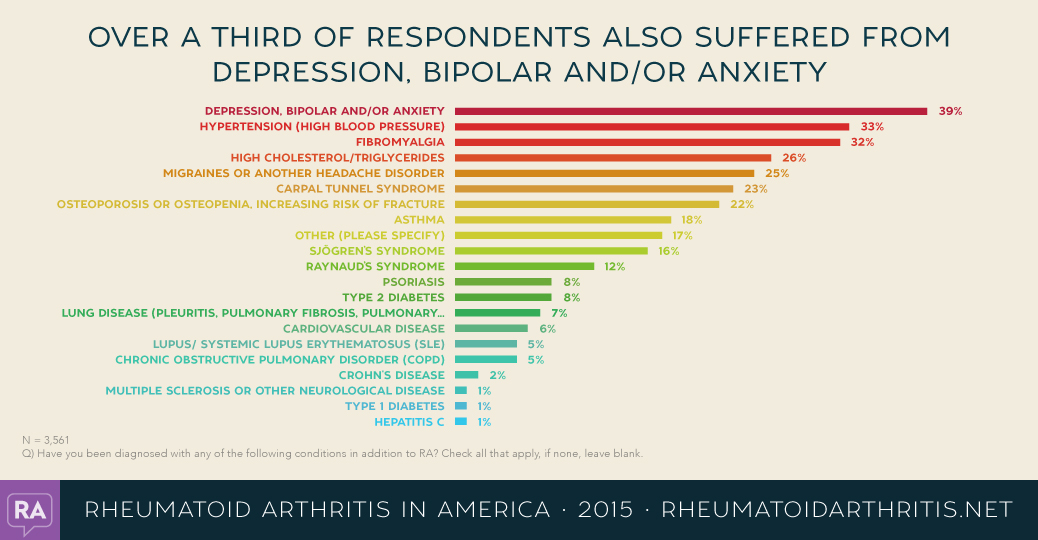 For many people, RA is not the only health condition they are living with. Mental health conditions, including depression and anxiety, were most common, followed closely by hypertension (high blood pressure) and fibromyalgia.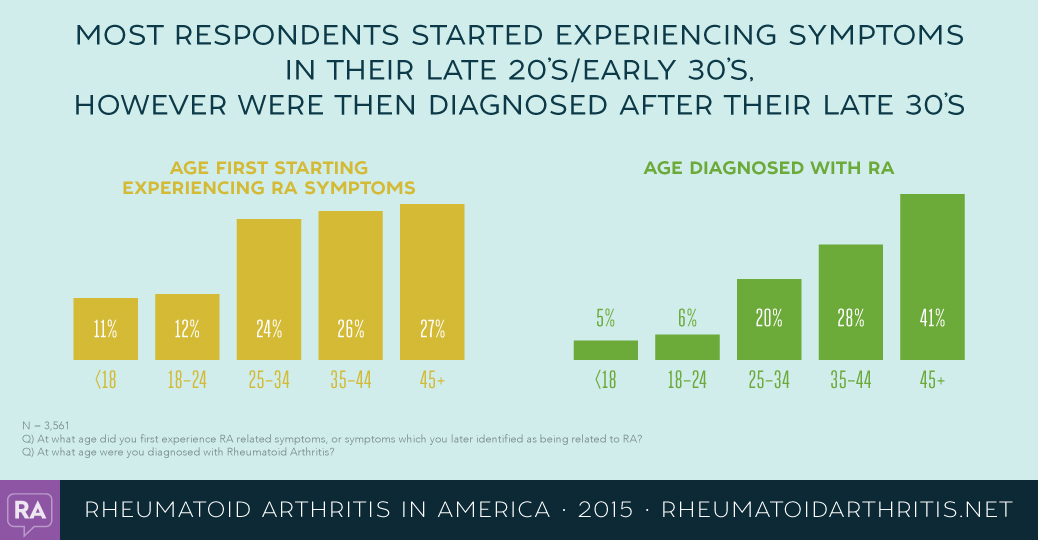 Given the challenges with diagnosing RA, it's not surprising that many respondents experienced RA symptoms years before receiving an official diagnosis. Many members of the RheumatoidArthritis.net community have even found themselves wondering if childhood health issues previously considered to be unrelated to their RA could have been early signs of the condition.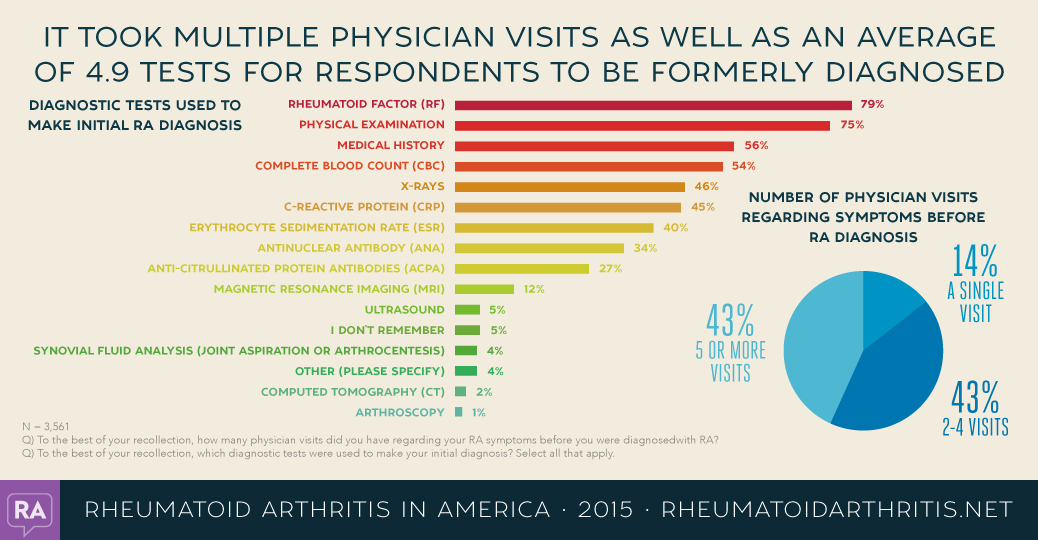 Because there is no single test to diagnose RA, a majority of respondents underwent a series of tests before receiving their diagnosis. Over 40% required 5 or more physician visits.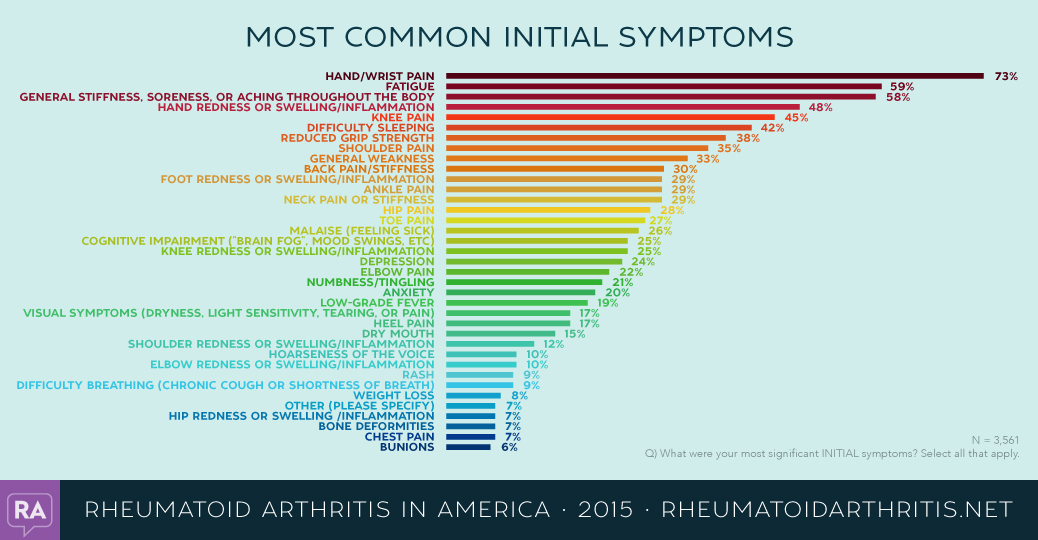 Hand and/or wrist pain was overwhelmingly the most common initial symptom of RA (73% of respondents), followed by fatigue and general stiffness or soreness. Fatigue is a common problem faced with autoimmune conditions, however it's often not viewed as a treatment target.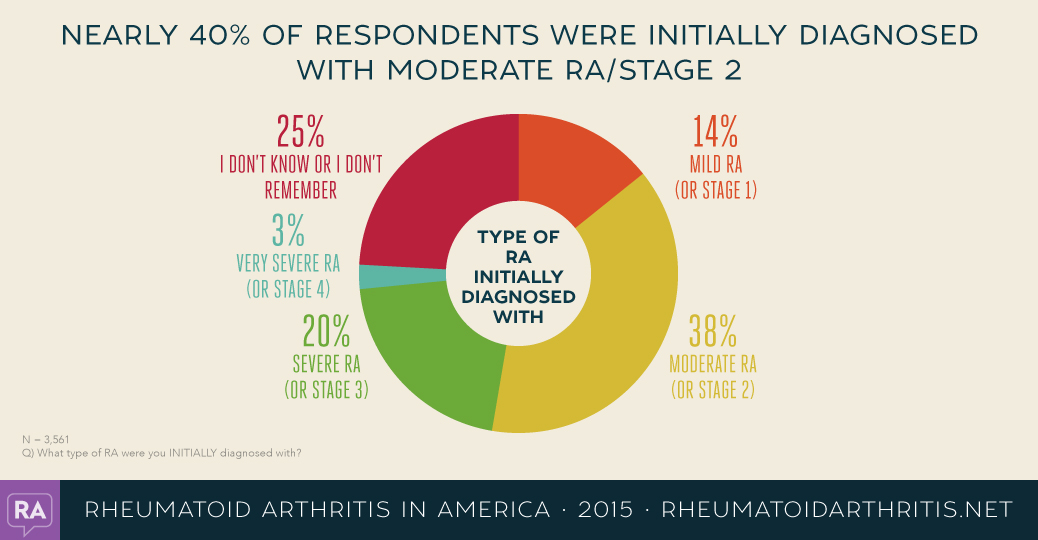 Nearly 40% of respondents were diagnosed with Stage 2 (Moderate) RA at initial diagnosis.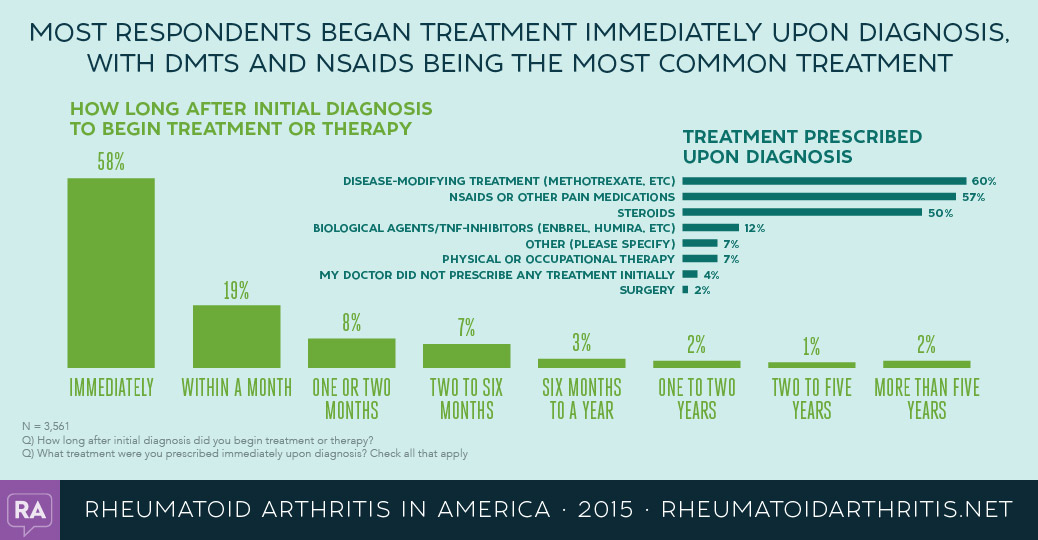 Disease modifying therapies are intended to stop the progression of disease and prevent or reduce long-term damage to joints and related structures. Therefore, it's not surprising that a vast majority of respondents – nearly 80% - started treatment for their RA within one month of receiving a diagnosis.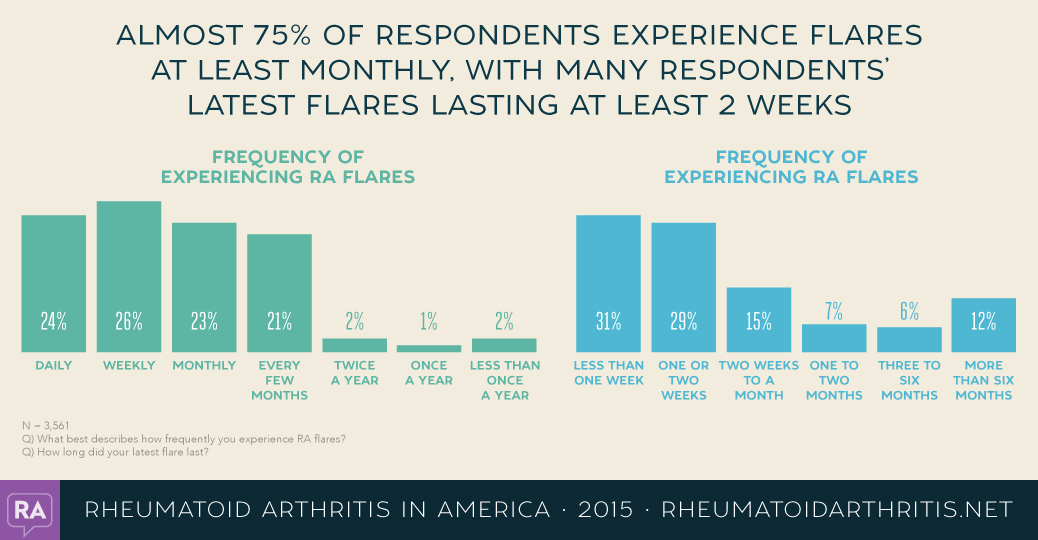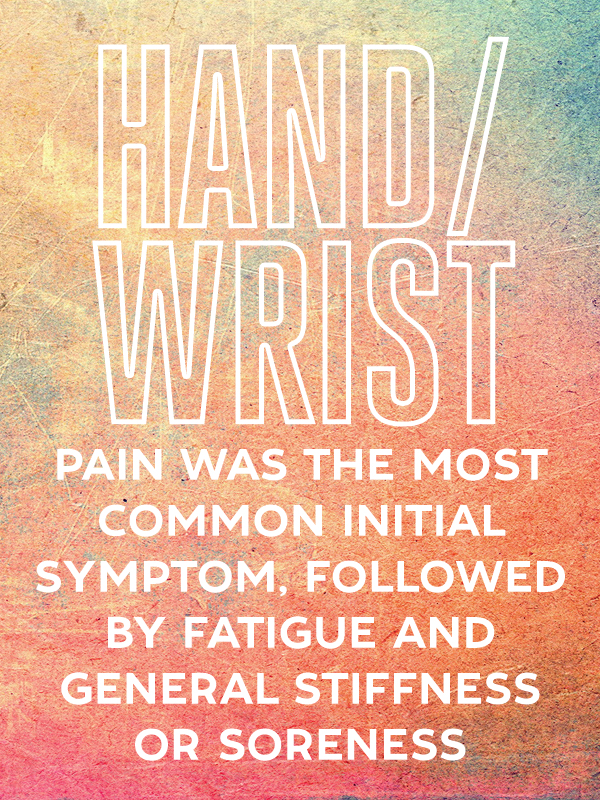 Nearly a quarter of respondents experienced RA flares on a daily basis. Another 50% noted that they experienced flares on a weekly or monthly basis.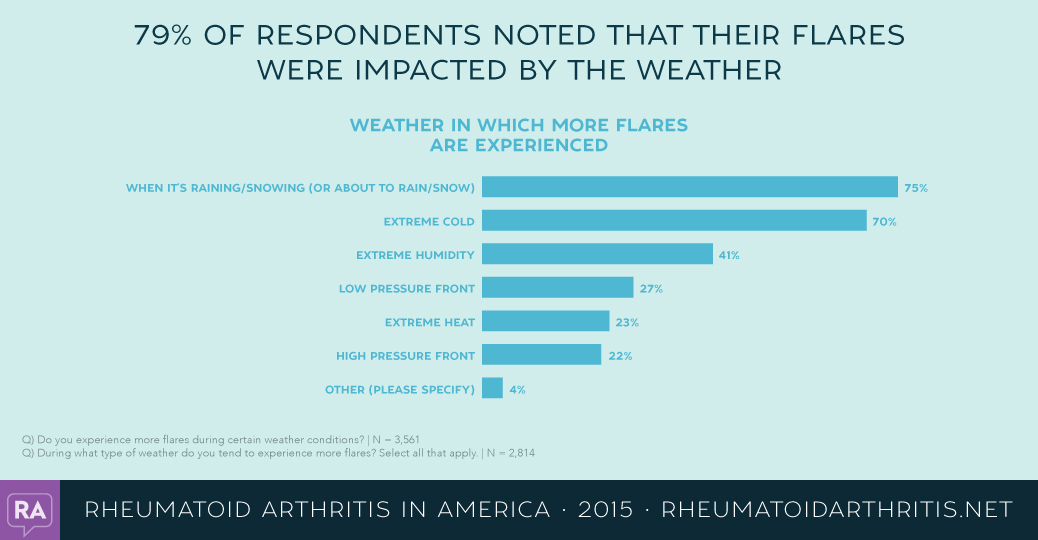 Unfortunately one of the most common factors affecting RA flares is one that we cannot control – the weather! Nearly 80% of respondents noted that weather affects their RA flares.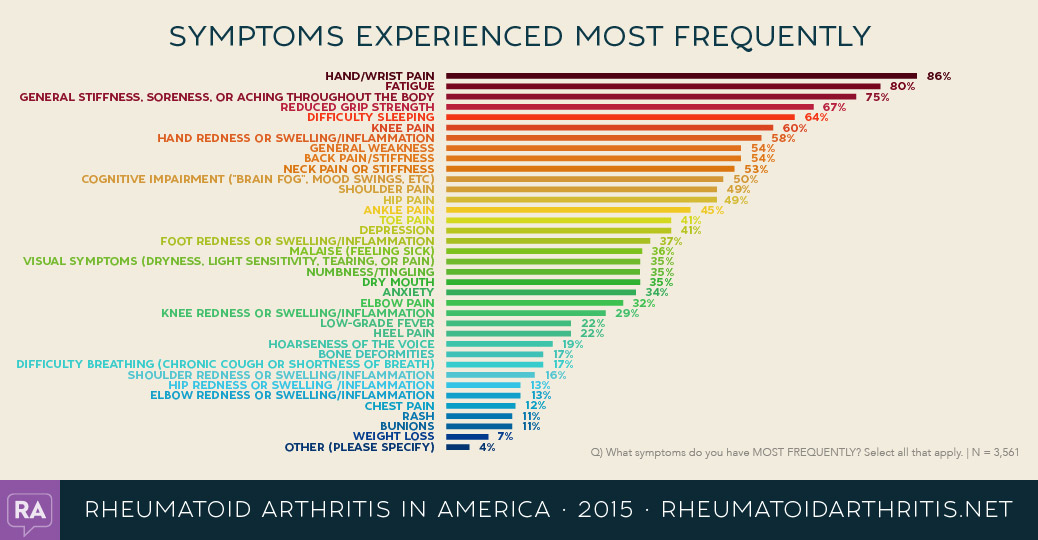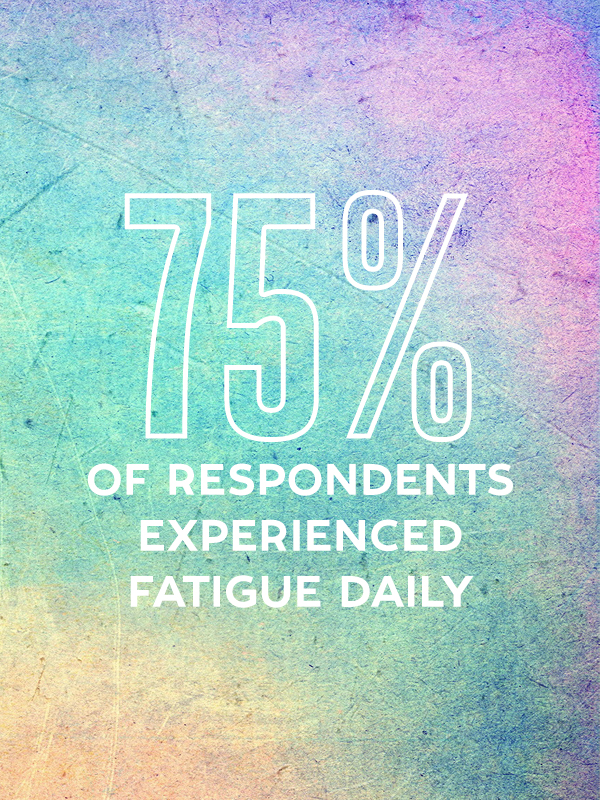 Many of the most common symptoms were similar to initial RA symptoms – with hand/wrist pain, fatigue, and general soreness topping the list. Other common symptoms included difficulty sleeping, knee pain, inflammation, and general weakness.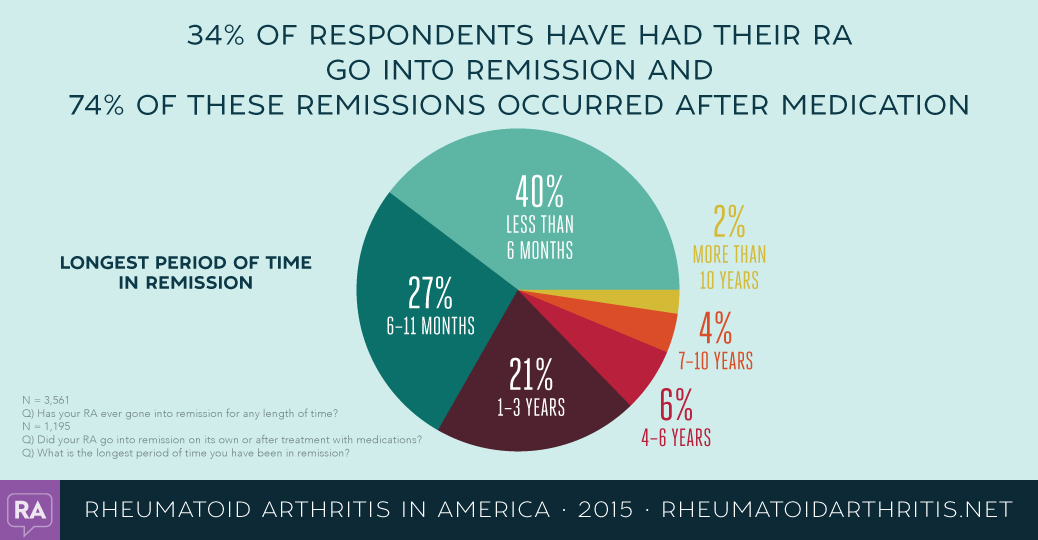 Roughly 1/3 of RA in America respondents noted that their RA went into remission, with a majority of remissions occurring after treatment (74%). Unfortunately remission often only lasted for less than one year.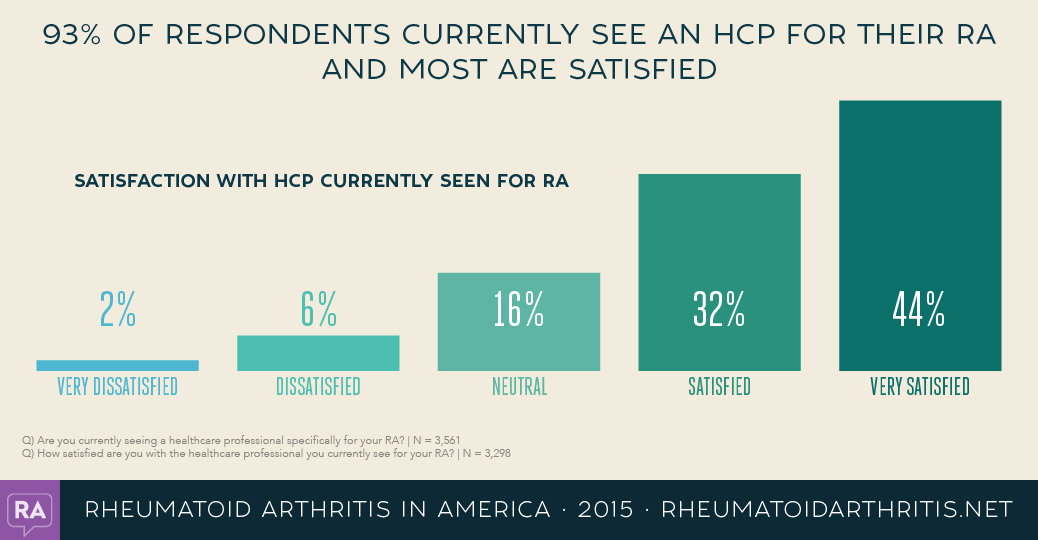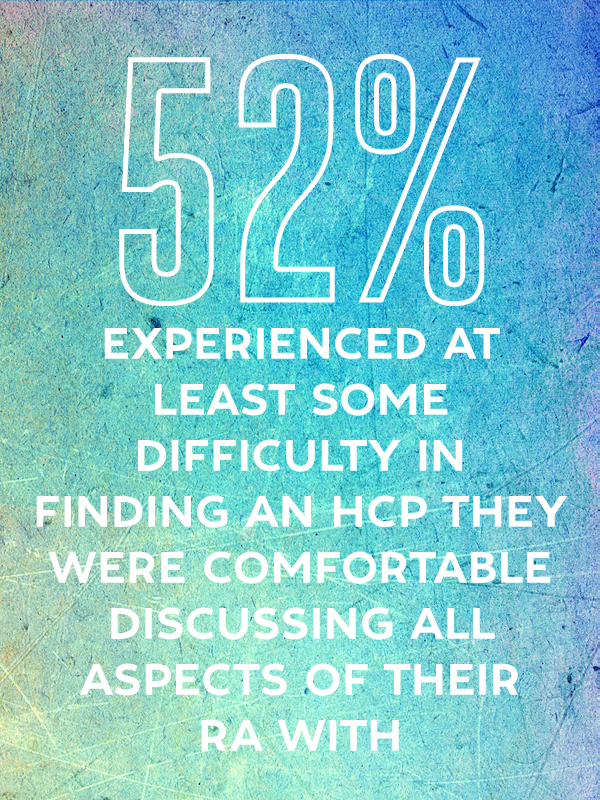 Fortunately, most survey respondents were under the care of a physician and 76% were satisfied with the level of care they were receiving. Still, more than 50% experienced some challenges finding a healthcare provider they were completely comfortable with.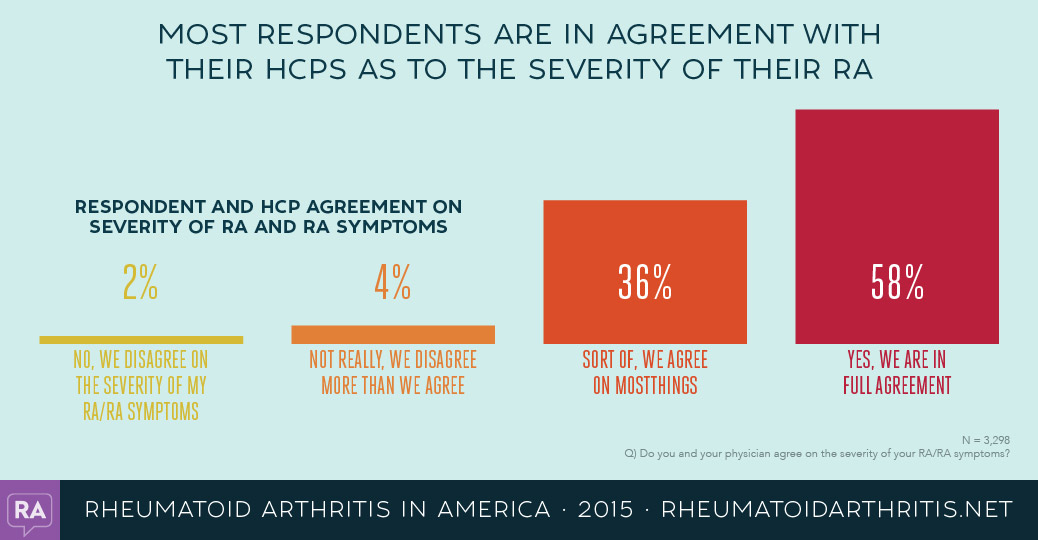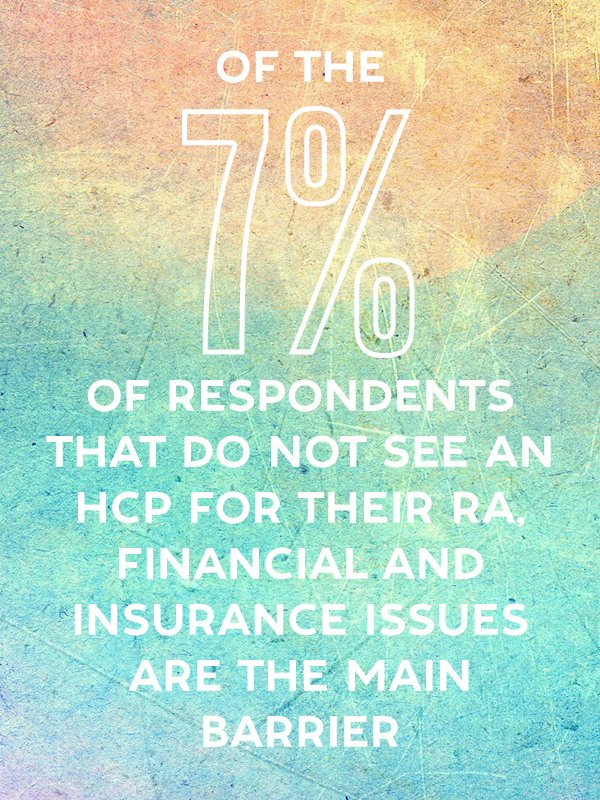 Consistent with the findings that most respondents were satisfied with their physician, nearly 60% reported that they were in complete agreement regarding the severity of their RA and RA symptoms with their healthcare provider.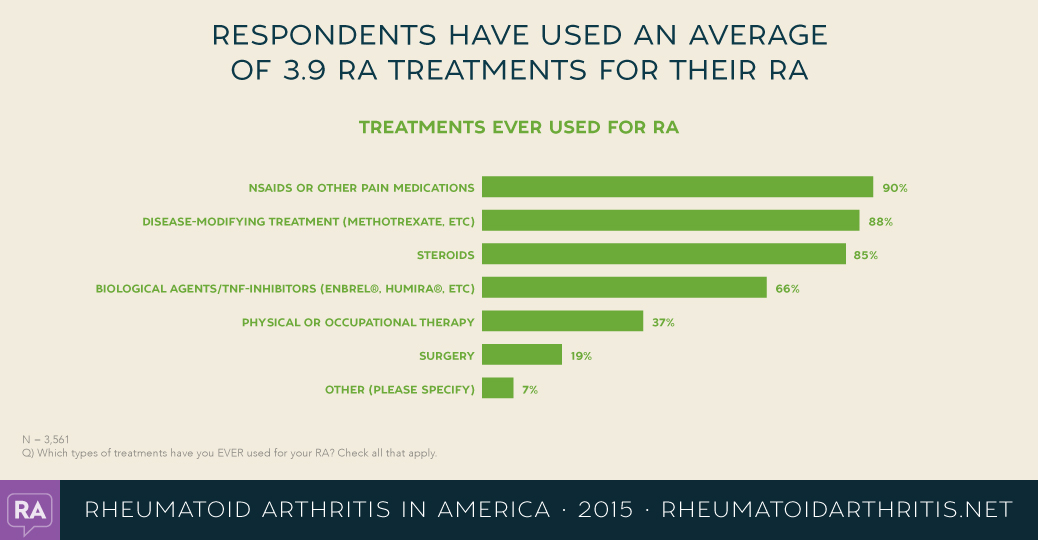 It can often take a cocktail of medications to provide adequate control of RA and RA related symptoms. Further complicating matters, treatment effectiveness may change over time. On average, RA in Americarespondents noted that they had tried 3.9 different forms of RA treatments, ranging from pain medications to surgery.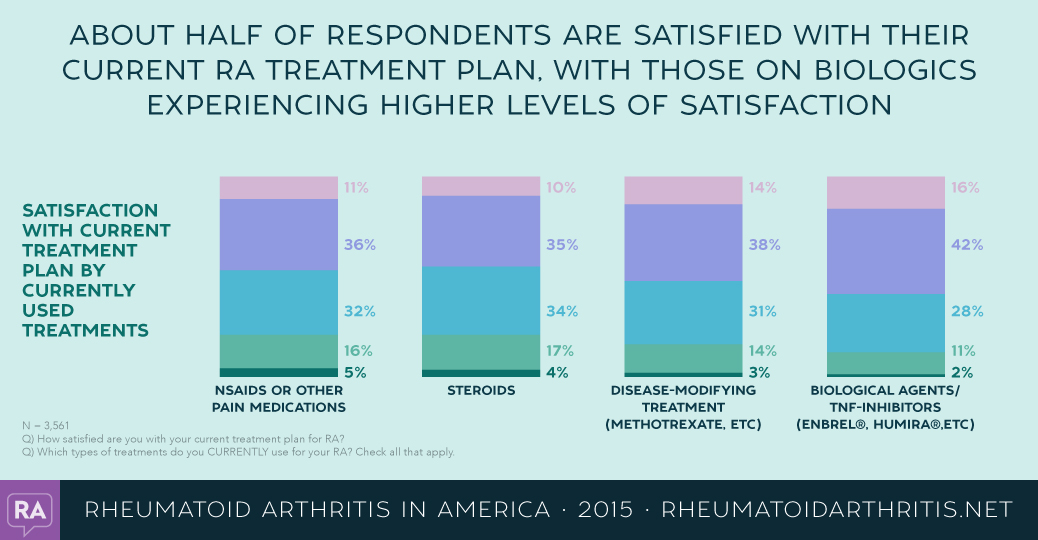 Respondents who were currently using a disease modifying therapy as part of their RA treatment noted significantly higher levels of satisfaction with their overall treatment plan.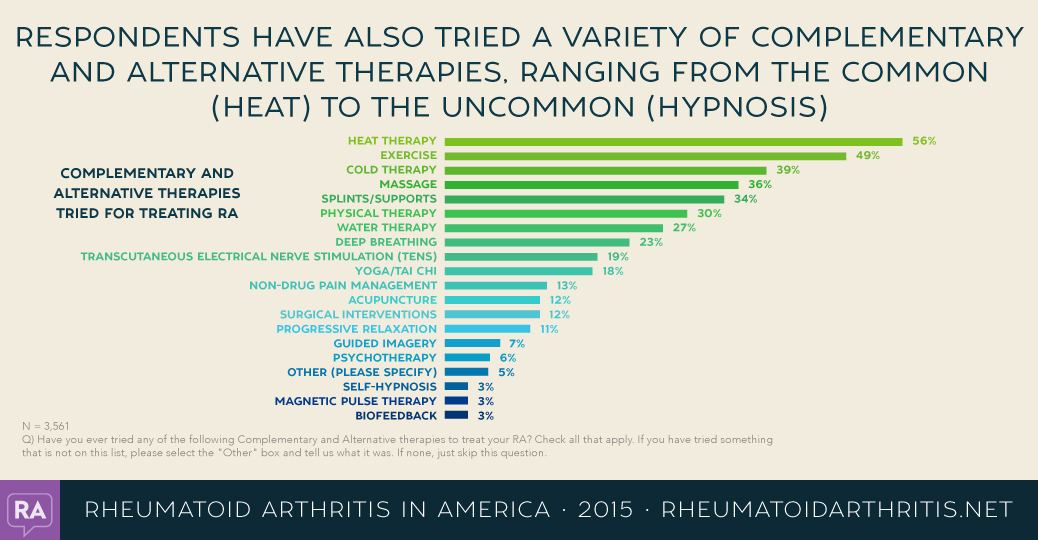 Although many people with RA are forced to retire early or reduce working hours due to RA symptoms, 37% of RA in America respondents were still working full-time.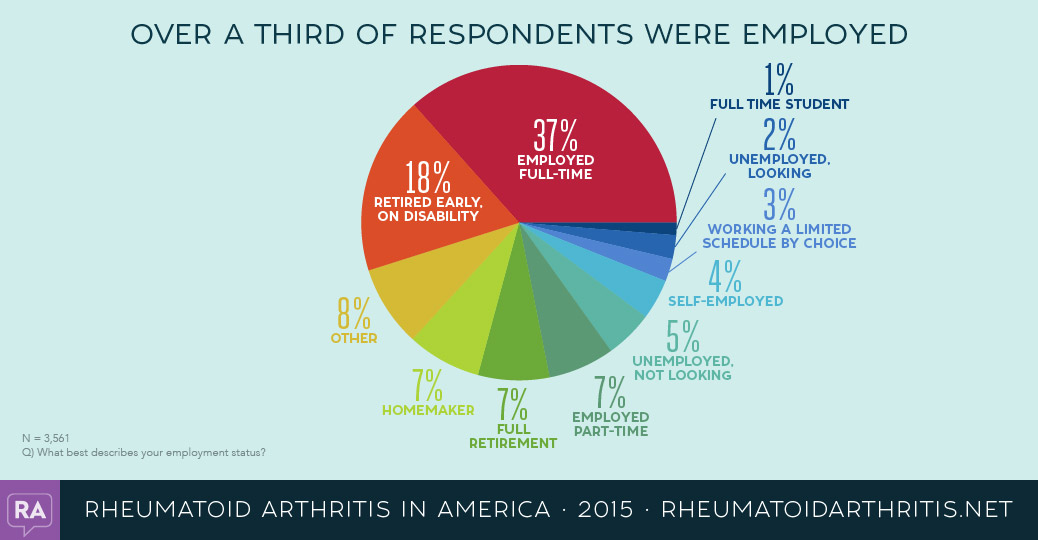 Although fatigue is often an overlooked and under-treated aspect of RA, it was noted as having the greatest impact on respondents' ability to continue working (95% of employed respondents). Pain, physical challenges, and a lack of understanding by others also presented challenges.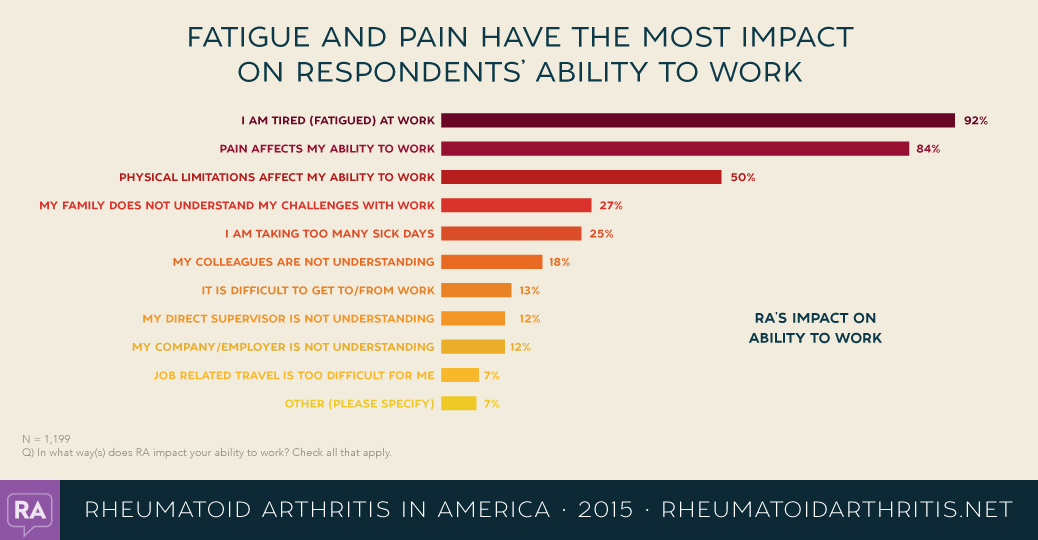 Pain, physical limitations, and fatigue were ultimately the most common reasons individuals stopped working or chose to limit their work. More than one-third of respondents were taking too many sick days, and 17% mentioned challenges getting to/from work in addition to a lack of understanding by their employer.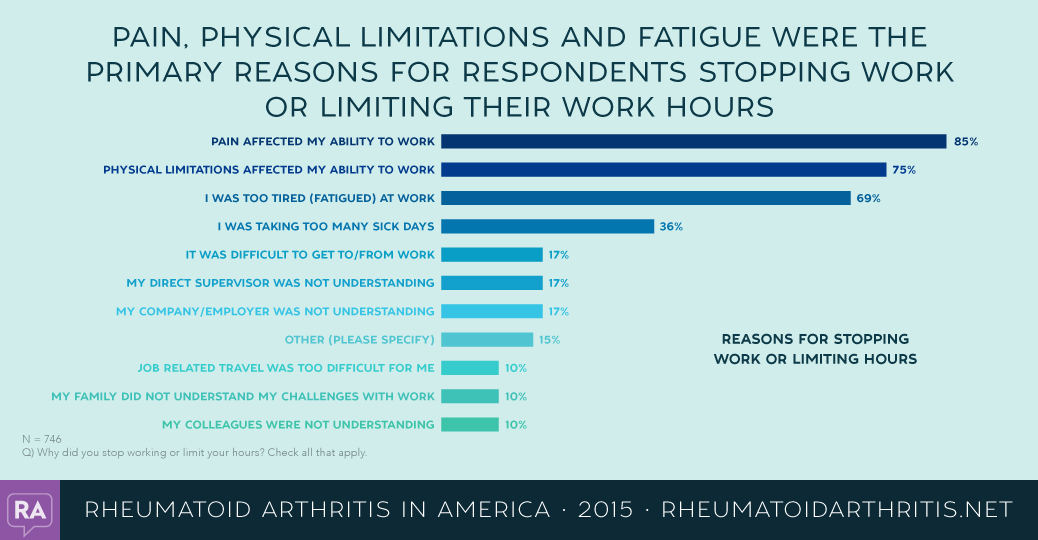 Unfortunately, the impact of RA goes well beyond physical symptoms and the workplace. Respondents noted a strain on relationships – believing that others often fail to believe the severity of RA symptoms. 45% of survey respondents specifically mentioned an impact on the relationship with their spouse/significant other and nearly 40% felt that RA affected the relationship with their children.