RA in America 2015

The RA In America 2015 online survey was conducted learn about life with rheumatoid arthritis (RA) from over 3,100 individuals who are living with RA. The 2015 survey continued to build upon the findings from previous surveys, illustrating the effect RA has on one's life:
Obtaining an RA diagnosis is not often straightforward and timely for most, rather it is a process involving
multiple healthcare professionals, office visits and diagnostic tests
With fatigue being the most common symptom reported, as well as many being impacted by joint pain and
stiffness throughout the day, its not surprising that all facets of respondents' lives have been impacted by
RA
Respondents reported playing an active role in making treatment decisions, however most turned to their
healthcare provider as a resource, as well as depending on their recommendations for starting and
selecting medications
RA is thought to be widely misunderstood by those not affected by the disease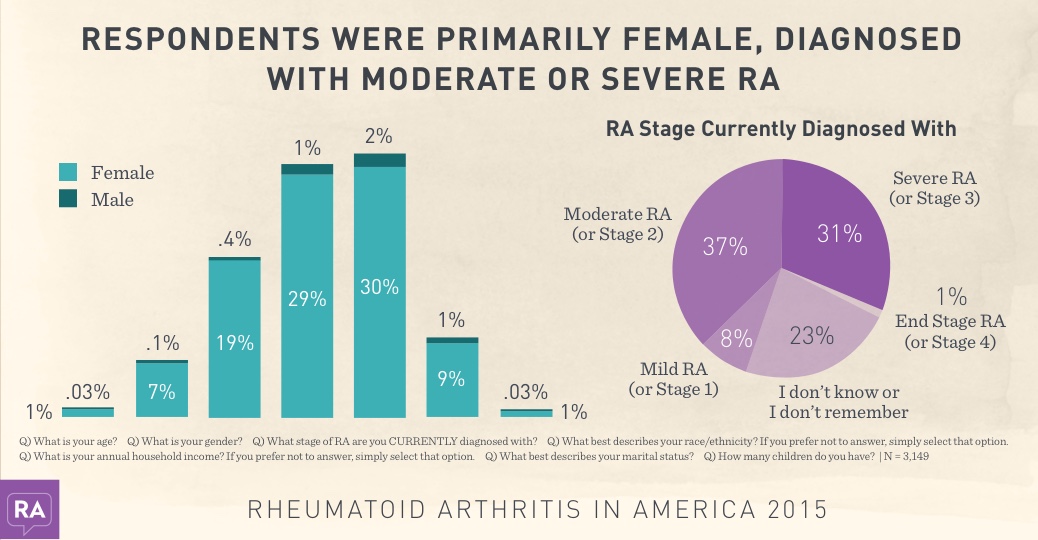 Most respondents were Caucasian and from
households with less than $100K annual income,
as well as being were married (68%) and having
children (83%). 14% were separated/divorced
and 6% were never married.